Benefits of Casing Gas Compression for Increasing Oil Production
2021 November 24
When it comes to natural gas compression, one of the more common applications is to reduce the pressure of the associated natural gas that accumulates in the casing on an oil well. The gas comes as a by-product, and while you can sell the gas, it can also hinder oil production. Gas pressure can accumulate in the casing, which will prevent oil from flowing freely from the formation into the well bore, where a pumping system is usually employed to artificially lift the oil to the surface.
Sometimes the added pressure applied by the gas in the casing can significantly reduce the amount of oil being produced, so if the casing pressure is reduced or eliminated, in most cases oil production can increase significantly.
Of course, customers have a choice of compressors, especially when it comes to casing gas pressure reduction, but the IJACK™ EGAS automated stand-alone casing gas compression system has several advantages over other compression systems.
EGAS Advantages
The IJACK EGAS is a unique system with patented technology that makes it a superior choice.
Slow-Moving and Durable
Unlike traditional fast-spinning gas compressors, EGAS uses electric-powered hydraulics to move a piston back and forth slowly and powerfully like a reciprocating engine. This slow-moving design is much more durable than a compressor and allows EGAS to tolerate some liquids as well.
Tolerates Liquids
EGAS can handle all gas and gas-associated fluids that may enter the unit, compressing the gas and handling any fluids without worry of damage. EGAS also has a patented buffer chamber which keeps production fluids separate from the hydraulic system, eliminating any gas filtration into non-explosion-proof areas, and also extends seal life.
Fully Automated
The advanced IJACK automation software constantly adjusts the unit to meet production requirements, while ensuring no damage occurs, resulting in a very effective, low-maintenance and trouble-free system. EGAS also restarts automatically after power failures, so there is no need to visit the site to restart the equipment.
Uses Less Equipment
EGAS will lower your casing pressure with much less equipment than other designs. EGAS doesn't need a separator, so there is less equipment at the wellhead, and the piping system is simplified.
There are no instrumentation systems that rely on wellhead gas or auxiliary compressed air systems to operate. As a result, no gas venting occurs, and you do not need a compressed air system. This qualifies EGAS for government emissions reduction grants.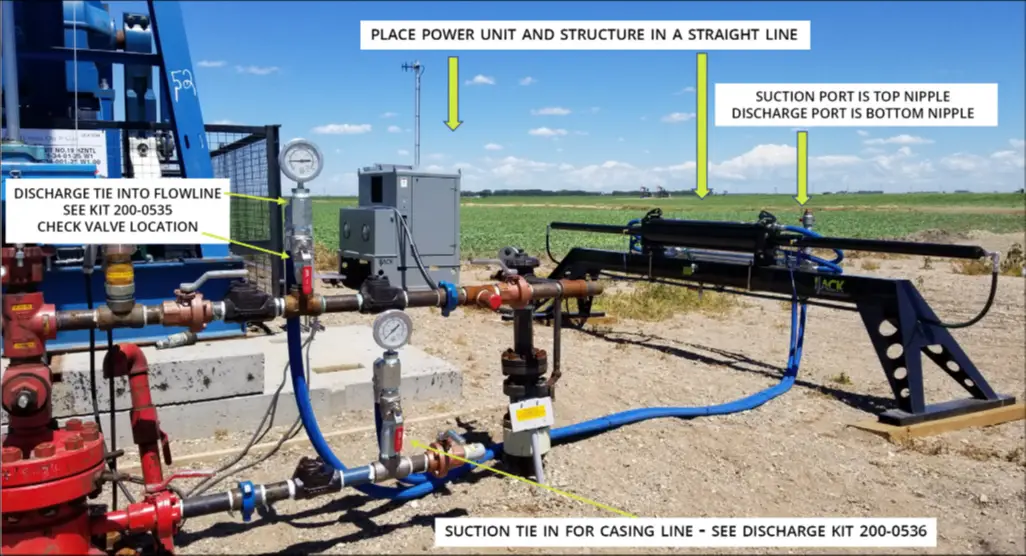 Less Space Required
Yet another benefit to the EGAS design is its compact footprint. The small area needed by an EGAS unit allows you to install it in small areas where other units may not fit. You can install it at small wellhead sites or even at headers where there is not a lot of lease space.
Less Expensive Installation
Less space and fewer parts required leads to inexpensive installations, saving both piping system costs as well as installation and start-up times, meaning you see increased production that much sooner.
Remote Monitoring, Control, and Alerting with RCOM
With IJACK's RCOM system, you can watch your EGAS in real time, remote-control it, and setup SMS, email, or phone call alerts completely free of charge.
Register for an account to see demo data and take it for a spin. Login to RCOM or download the app for your phone, tablet, laptop, or desktop computer.
Reasons to Choose EGAS
Eliminates / reduces emissions, venting and flaring
Lowers casing pressures, increasing formation inflow
Keeps casing pressures as low as 0 PSI while eliminating venting
Works with any type of artificial lift system
Handles wet gas and gas-associated fluids without the need for scrubbers or blow cases
Compact design allows installation in small areas
Eligible for government emission reduction grants
The IJACK team is excited to work with you to figure out which EGAS setup best suits your application!
Contact us for more information.